The Macroarc team was founded in 2008 by Christopher Barner-Kowollik upon moving from the Co-Directorship of the Centre for Advanced Macromolecular Design (CAMD) at the University of New South Wales (UNSW) to the Karlsruhe Institute of Technology (KIT) in Germany as Chair of Macromolecular Chemistry. In 2017, Christopher and the team relocated to the Queensland University of Technology (QUT) in Brisbane – having a secondary node at the KIT – where the laboratory is now headed by James Blinco (since January 2020), upon Christopher taking on the additional role of Vice-President (Research) of QUT, while at the same time remaining a senior principle investigator and group leader in the Macroarc group. The team has grown from a humble beginning of twelve students and postdoctoral researchers at KIT to now being a team of over 40 researchers.
The Macroarc team is located in QUT's brand new, purpose built soft matter materials laboratory (opened in 2017) located on QUT's Gardens Point campus. The laboratory is equipped with state-of-the-art synthetic facilities, cutting edge photochemical equipment (including a wavelength tunable laser systems), and a materials characterisation suite for both small (NMR, EPR, HPLC, GC/MS, LC/MS, FTIR, UV-vis spectroscopy and XRD) and large (high resolution ESI-MS, multi-detector SEC, DLS, DSC, TGA) molecules and materials. Some of this equipment is co-located in QUT's state-of-the-art central analytical research facility (CARF), allowing QUT wide researcher access.
The team has published over 770 peer-reviewed papers, which have been cited over 28,000 times. Macroarc has been home to over 130 PhD students and postdoctoral fellows, 65 honours and diploma students and has collaborated with more than 198 institutions from 30 countries all over the world. In addition to collaborations with academic partners, the team has many strong links with industrial partners with over 20 successful partnerships. Across three universities (UNSW – KIT – QUT) and two continents, Christopher has raised over 38M$ in personal research funding with the team total standing at 42M$.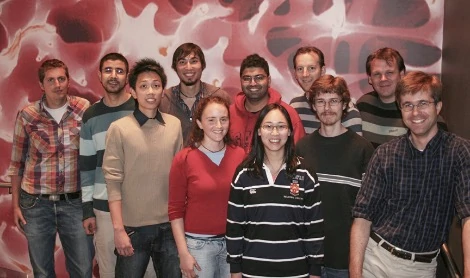 780+
Peer-reviewedpapers published
28K+
Times our papershave been cited
33Mil+
Dollars of research funding raised